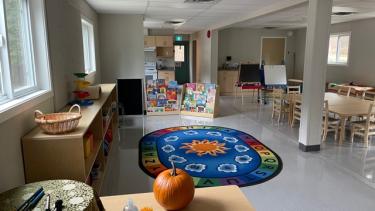 Seamless Day after-school care coming to Winlaw Elementary
November 1st 2021
Winlaw Elementary School will be supporting their youngest learners and families with the Seamless Day Kindergarten pilot program, slated to begin providing after-school care services this coming January, 2022.
The new childcare, Kindergarten and support services facility has been supported by the Ministry of Education and Columbia Basin Trust and is part of the government's 10-year Childcare B.C. plan, as the province works to build an inclusive universal childcare system that meets growing childcare needs in B.C. communities.
The childcare pilot program at Winlaw Elementary will launch in the new year, offering space for 12 students and will be limited to after-school care only at this time. Winlaw students, aged Kindergarten to Grade 5, are eligible to apply and parents are encouraged to contact the school Principal, Monica Doyle, at monica.doyle@sd8.bc.ca
Since early October, the facility has already been utilized by SD8 staff and community partners to provide a variety of support services such as art therapy and occupational therapy, as well as hosted the StrongStart program, an early-learning play based program for children aged 0-5. The Winlaw Kindergarten class is also preparing to move into the new building.
The Seamless Day program was initiated in 2019 and began in four elementary schools in B.C. and has now expanded to 21 schools across B.C., including Winlaw Elementary School. Seamless Day programs allow Early Childhood Educators (ECEs) to work alongside the teachers in the classroom during the school day, and to provide high-quality before and after school care within the same Kindergarten classroom setting. With minimum transition for the students, and team collaboration for the educators, students will excel in all aspects of their development.
Monica Doyle, principal of Winlaw Elementary says, "The addition of Early Childhood Educators within our Kindergarten program provides a coordinated and wrap around approach of caring that young learners will benefit from emotionally and academically." SD8 will be hiring a new ECE position for the Winlaw Seamless Day pilot.
"Our participation in this pilot will improve access to after school care that parents genuinely need in our district," said Superintendent Trish Smillie. "It is an example of a community coming together to support our youngest learners. I am looking forward to how this program will provide the ability for busy parents to get to work and knowing their children are cared for and learning."
The Kootenay Lake Board of Education will continue to work with parents, the Ministry of Education, and municipal governments to be innovative about how to create supportive environments for early learners.
For more information:
Monica Doyle, Principal Winlaw Elementary
monica.doyle@sd8.bc.ca
---
About The Board of Education of School District No. 8 (Kootenay Lake): 
The Board of Education of School District No. 8 provides educational services to numerous diverse communities in the East & West Kootenays, including Crawford Bay, Creston, Kaslo, Meadow Creek, Nelson, Salmo, Slocan, South Slocan, Winlaw, Wynndel and Yahk. Its dedicated team focuses on providing the best possible educational opportunities for over 5,400 students and their families. Its mission is to focus on excellence for all learners in a nurturing environment.