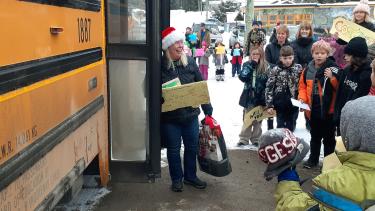 Twenty-seven Years Behind the Wheel - Celebrating Jeanne Hird
January 4th 2023
After 27 years of dedicated service, Jeanne Hird welcomed her last group of students onto her school bus on the afternoon of Friday, December 16, 2022. 
Jeanne was honoured the previous night at the Winlaw School Concert on December 15, where staff and students invited her on stage and presented her with a gift, as the children sang for her. Then, on the afternoon of December 16 as she pulled up to W.E. Graham Community School for her final bus run, Principal Mike Hurley and all the students were waiting outside with signs to congratulate Jeanne on her stellar service and for safely transporting generations of Slocan Valley children to and from school each day. There is arguably no higher calling.
"Jeanne is an amazing person starting an exciting new chapter of her life, and she will be dearly missed by many. On behalf all our Operations and Transportation staff here at SD8, I warmly thank Jeanne for doing such a great job and being an important part of so many students' lives over the years. Thank you," said Director of Operations Chris Kerr.
"It has been nothing but a pleasure to work with Jeanne. We have had a lot of laughs, some really great times, and she is a great baker, so [we got] lots of great treats! We will truly miss you Jeanne, it will not be the same without you! I'm hoping your retirement is long and happy," said District Transportation Coordinator Pat Thast.